Carl Williams' family sues the State of Victoria over drug kingpin's brutal prison death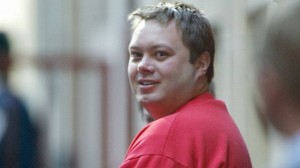 The family of murdered gangland boss Carl Williams have launched legal action over his death.
His father George, daughter Dhakota and ex-wife Roberta are suing the State of Victoria as the operators of the jail where Williams died in 2010.
Williams was bashed to death by another inmate, Matthew Charles Johnson, in the top-security Acacia unit at Barwon Prison.
In a writ lodged in the Supreme Court yesterday, members of the Williams family allege prison management failed in its duty to protect him.
They claim the prison failed to properly monitor CCTV of Williams' unit, or keep potentially deadly items from Johnson's reach.
They claim Victoria Police had sought Williams' cooperation on an investigation and agreed to "financial benefits" for his family.
The chilling moment Carl Williams' killer Matt Johnson approached him with an exercise bike post.
Those included George Williams' tax bill of $574,297 and Dhakota's school fees, the writ alleges.
His death deprived them from those benefits and left them with lasting psychological injuries, they claim.
"At all material times, the First Defendant's (State of Victoria's) servants or agents … knew or ought to have known of Carl Williams' Police cooperation" the writ states.
The family of Melbourne gangster Carl Williams is suing Victoria's prison system for a million dollars.
The writ alleges authorities should not have placed Williams with Johnson and knew, or ought to have known that:
whilst incarcerated at the prison, Johnson was a member of the Prisoners of War gang ("the POW gang");
the POW gang were responsible for assaults on prisoners who had cooperated with police investigations;
 Johnson had previously participated in a serious assault on a prisoner at the prison who had cooperated with police investigations;
Johnson had previously used the seat of an exercise bike during an assault on another prisoner at the prison;
Johnson had a correctional history of 76 separate incidents including multiple assaults on prisoners and prison staff.
The writ states that after Williams requested a move into the same unit as Johnson, Penny Armytage, Secretary to the Department of Justice and Rod Wise, the Acting Commissioner of Corrections Victoria, were consulted.
Mr Wise emailed Ms Armytage that "there is little doubt that Johnson is capable of causing Williams harm".
"Wise stated Johnson could harm Carl Williams for financial incentives, an opportunity to enhance his reputation at the Prison and the fact of any further sentence following a charge running concurrently" the writ claims.
But both supported the move.
The Williams family alleges that the State of Victoria was negligent in that it did not carry out any risk assessment of the potential harm Johnson posed to Williams; did not ascertain whether Victoria Police had undertaken a risk assessment; did not properly assess Johnson's prior conduct, and did not consider and assess the significant risks.
They also allege the prison gave too much weight to concerns Williams would stop cooperating.
The Williams family members are seeking a judge-only trial.
(Source: Anthony Dowsley, Herald Sun, 26 September 2012)